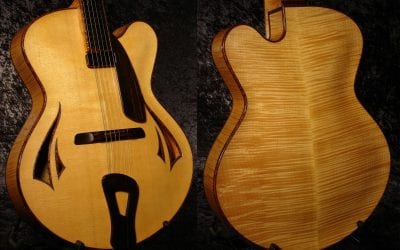 The Kiwi archtop was designed and lovingly crafted for a client who lives in New Zealand. He wanted it to reflect is home country and we felt the fern frond was a great way to do that. The curves of the fern frond were uses in the main inlay as well as underlying...
read more
INDIVIDUAL GUITAR GALLERIES & LATEST POSTS
Genesis nylon string guitar with German spruce top and Malaysian Blackwood Back and sides. The bindings are Koa with accents of Bloodwood and Lacewood in the purflings. "This guitar is powerful, has a well developed fundamental, sings, has developed it's own character...
The driving force and inspiration for my work as a luthier has always been rooted in never saying a design is good enough, in relentlessly pursuing higher and higher levels of excellence, and continual refinement in vision and sound. This newest iteration of my...
#theartoflutherie  #luthiersedge #tombillsguitars